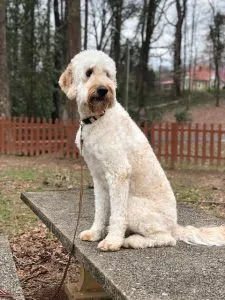 Charlie, the Real Estate Watch Dog
We have added a new member to our team of real estate professionals at Quartermaster Properties. This is Charlie, the real estate watchdog. He is a two year old Golden Doodle with a keen sense to sniff out real estate and market trends. He also has good advice on how to make sure you pick the best real estate company for your needs. Charlie is partial to Quartermaster Properties but does his best to be as objective as possible. In addition, we are supported by APM Help, a bookkeeping firm specializing in the property management sector who Charlie also recommends.
Property Management Bookkeeping
For obvious reasons, property management bookkeeping is extremely important. Accurate bookkeeping is important for the company. Likewise, it is also very important for clients to know their funds are managed correctly. But I'm sure you must ask yourself: How do clients know the condition of a company's books?
Audit Tool: Triple Tied Out
For months now we have been working with a company called APM Help. APM Help is a bookkeeping firm which offers many client services including audit tools which report on the quality of a client's books. Quartermaster Properties has added a badge/link provided by APM Help called Triple Tied Out. Triple Tied Out generates a link displayed at the bottom of our website. This link provides 24×7 reporting on the condition of our books. Consequently, the service helps us insure we keep our bookkeeping up to date and as transparent as possible to our current and future clients.
When searching for a property management company who is transparent, ask them if they use an audit tool as part of their bookkeeping process. Quartermaster Properties is the "Gold Standard" in more ways than just bookkeeping. We prove this saying by being transparent for all to see on the internet with our triple tied out badge/link and also by how we treat our clients and their properties. We realize the importance of integrating useful technology with real estate and strive to stay on the cutting edge. Take a minute and look for this symbol at the bottom of our landing page to get a current overview of our books. Don't forget to subscribe for triple tied out updates at the bottom of our web site.