As we are preparing for the autumn season, Halloween sets us in the mood for some scary tales and stories. In South Carolina, haunted places aren't a common occurrence around the upstate area as they occur mostly in Charleston. The Charleston area is widely known for having various public and popular haunted areas. Considering their daunting history, they've grown in popularity in various ghost tours. Let's not mainly focus on Charleston as there are some chilly places in the Upstate as well. If you would like to discover some real haunted places in South Carolina, go ahead and read, if you dare!
Oakwood Cemetery "Hells Gate" (Spartanburg, SC)
The 20 acres of land that make up the Oakland Cemetery, often known as Hells Gate, is a well-known unsettling area and is a blatant indication that this is not the place to screw around!
This cemetery is the scene of numerous unexplainable occurrences. This includes sudden cold areas, children giggling, rapidly depleted electronic batteries, bright orbs, and unexpected cries.
You're probably wondering how it earned the nickname "Hells Gate." Well, this cemetery has a long history of nighttime Satanic rituals performed there. As a result, the majority of graves become vandalized due to cement damage, prying open caskets, and stolen body parts. Lesson number one for the dead: NEVER tamper with their resting place or there will be repercussions! Just moments later, the thieves returned the remains not back in their proper place, but in the garbage.
There's more to learn at Oakland Cemetery, as the video below describes specific roaming spirits as well as discovering paranormal investigations:
The F.W. Wagener Building (Charleston, SC)
The F.W. Wagener Building holds a dark tale in the holy city of Charleston. This location isn't as popular as the other haunted places because it's currently not open to the public. So, tourists can easily miss the building in a blink of an eye. Most of the businesses taking place at this historic building have either closed down or moved to other locations. Why is that? It all starts with the story of George Poirier. You can read about his story by clicking here. 
After the horrifying demise of George Poirier, the F.W. Wagener building was renovated several times for other upcoming businesses. However, the renovations cannot build or fix the paranormal activity that's been spurring. There are claims by the previous owners and construction workers that furniture/objects have either been moved or thrown at them. On the third floor, where George Poirier died, is forbidden for good reason.
There are other paranormal experiences that don't even happen inside the building. People have been spotting a swinging shadow from the window outside from walking. It's clear that George Poirier's spirit has not left as he doesn't want to leave his business.
In spite of everything, the building is undergoing renovations once again. It's now becoming a wedding venue, which is hysterical. How fun would it be to have a wedding in a haunted building? The question is will George Poirier approve or just move more furniture to scare them away?
Graveyard at Circular Church (Charleston, SC)
The Graveyard of Circular Church is the oldest English burial ground in Charleston, SC. By containing over 500 gravesites that date back to 1695, it's no wonder why this graveyard has grown in popularity. As the church was established in 1681, it's been through damage from various wars to weather hazards. As a result, various records have been lost and various gravesites were either destroyed or unrecognizable. Despite multiple repairs throughout its lifetime, the church is still standing. However, it doesn't change how haunted this area has become throughout the years.
At nighttime, individuals have spotted not just fair orbs but seeing figures like Revolutionary soldiers strolling around and disappearing. Moreover, numerous guests have taken pictures to see the midst or haze of a silhouette. In this spooky spot, others have felt cold breathing on the back of their necks, hearing voices or whispers, and feeling a slight touch on their shoulders.
There are plenty of stories around each headstone, but the Hutson-Peronneau family vault in the back gives guests a chill. Click here to read the story about Julia. 
For more information about the graveyard's history, the artwork of the headstones, and even more ghost tales check out this video below:
Crybaby Bridge (Anderson SC)
The Crybaby Bridge in Anderson is a landmark with calming views and a haunting tale. Although the bridge is closed off to vehicles, you can still access it on foot day or night. During the day, it's a beautiful bridge to walk across as it's surrounded by nature and the Rocky River below. At night, various visitors gather around to hear ghosts of a baby crying from underneath or see an apparition of a woman pacing and searching for the child. To hear more about the bridge's history and the tale surrounding the mother and her child, check out this video below:
Greenville's Tuberculosis Hospital (Greenville, SC)
Unfortunately, the Greenville Tuberculosis Hospital no longer exists today as it got burned down in 2002. But, not all hope is lost for this haunted hospital as the location is now used as a children's park called Herdklotz Park. Even though the hospital building is no more, the deceased patients still roam around the park at night.
In the past, the hospital helped treat patients with tuberculosis between the 1930s and 1950s. After being a tuberculosis hospital, the facility became an insane asylum and was later called The Hopewell Sanitarium. During that time, the place held various patients who suffered from procedures such as lobotomies and other cruel mind experiments.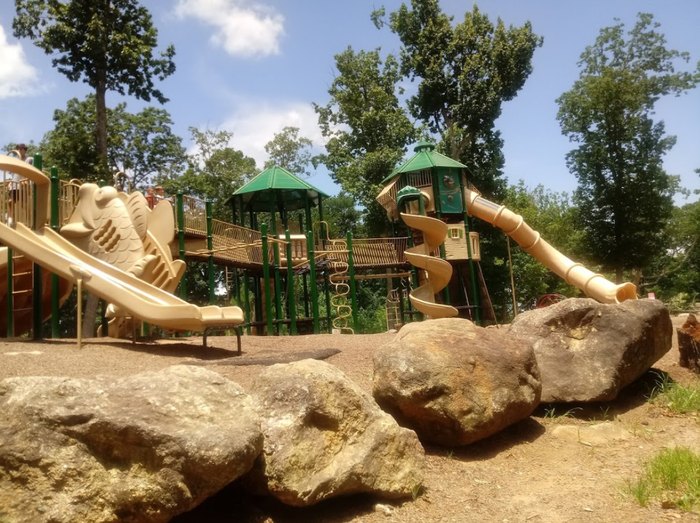 Ever since Herdklotz Park was established, many locals had paranormal experiences in various areas where the hospital/sanitarium used to stand. They often see shadowy figures, clanging sounds, whispered voices, screams, laughter, and even footsteps. One strange report was discovered as someone stated that they witnessed blood in the rain puddles. Do you dare to take your children to this park now?
Written by: Marie Carlisle
Marie recently joined our team as an Office Manager to assist our realtors with administration, customer service, marketing, time management, and keeping up our social media. She graduated at Lander University with a bachelor's degree in English in Professional Writing. In the past, she previously worked in various customer service roles for five years at different businesses. Currently, she wants to expand her knowledge in the Real Estate business with various marketing tactics and ideas to help our business evolve. In her spare time, she enjoys traveling, creative writing, and spending time with her friends/family as well as her husband, Terry.